Coffee by the Cup
While espresso is our specialty, we offer the finest brewed (or drip) coffee in our area. In an effort to expand the choices available to customers, we also offer press pots to our dine-in customers. We monitor everything from cake depth to water temperature, exposure time to coffee/water ratio. We feel that we produce coffee the way it is supposed to be made.
Our stores offer four drip coffees before noon each day. All of these coffees are roasted by one line coffee company which is the Newark-Granville's only Hometown Coffee Roaster. Each day we will have a light roast, dark roast, house coffee and a decaf option. To view a description of all of our coffees, please go to the "Coffee Selections" menu option.
We also offer a 16 oz press pot coffee to our dine-in customers. This coffee preparation process allows our customers to receive an absolutely fresh ground, fresh brewed cup of coffee at any hour of the day…and we always provide a variety of origin and blends and roast levels from which to choose. The press pot brewing process takes about four minutes and customers enjoy being able to pour small amounts of coffee from the pot while drinking to keep their brew hot.
Available at some locations is the pour over option. The barista will grind enough of your choice of coffee beans to make a single cup of coffee. The freshly ground beans are placed in a cone shaped brewer with filer and then hot water is poured over the grounds to extract the coffee flavors into your cup.
T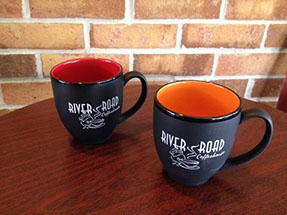 he positives:
•your coffee is fresh ground and fresh brewed just for you!;
•you have a wider choice of origin coffees and blends as
well as roast levels from which to choose. We typically have at least
5-6 options which always include at least one dark roast, one
fair-trade and 3-4 origin coffees and blends;
The negatives:
• the coffee preparation process takes about four
minutes…so it's not conducive to the drive-thru customer or the
customer who is running late for work